sweater: thrifted
blouse: H&M
floral shorts: F21
oxfords: Jeffrey Campbell
necklace: vintage
bag: ebayIt's been extraordinarily beautiful in NYC and that makes me want to bring out pretty florals in the worst way. One of my absolute favorite things about this time of year is seeing all the amazing flowering trees show their blooms. It's just so very…well, Spring! I topped of this feminine/floral look with one of my most favorite thrift-store finds of all time! I've just been dying to share it with you all. This vintage sewing machine necklace (ignore my chippy nail polish in the photo! someone needs a manicure.) My grandma taught me to sew many, many years ago and not only have we shared many fond memories together (FACT: we made my senior prom dress), but i'm so very proud to have the sewing knowledge she shared with me. Not only is it a lifesaver to be able to hem your own jeans…I mean, that's all we little people (I stand merely 5′ 2″) know. BUT for vintage lovers like me, having to take in & alter those one-of-a-kind vintage gems to fit you, is inevitable. So being able to do it yourself without having to spend gads on a tailor is everything. My trusty blue Kenmore sewing machine is a workhorse, but a far cry from beautiful, antique Singers of yesteryear. They were built with such craftsmanship and I found their design just so visually beautiful. That iconic shape is undeniable. Anyway, back to the necklace….a number of years ago, my mom bought me an antique sewing machine Christmas tree ornament for which I hang proudly on my tree every year. For all the reasons and memories for which I've just mentioned, it holds a lot of meaning to me. So when I happened to stumble upon this necklace (which resembles it greatly) while thrifting, I couldn't leave the store without making it mine! I think it was God or fate or something…because it (obviously) was just meant for me.
Since we got sewing on the brain now, feast your eyes on some of my most favorite paper prints which share this theme…

Illustration by Clare Owen. I have this hanging on my wall in my house and it makes me oh so very happy.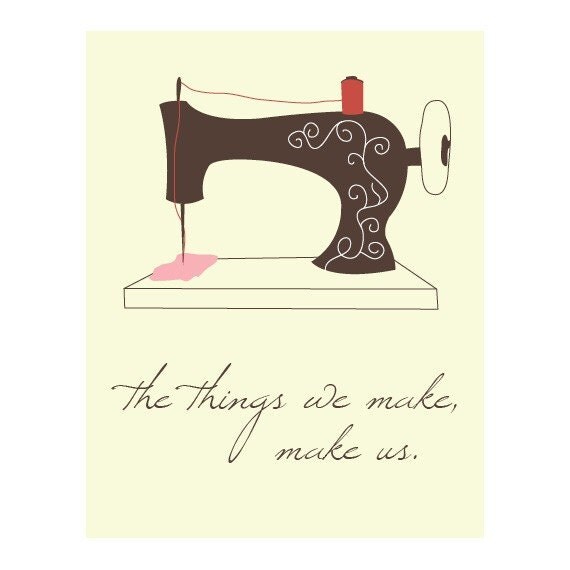 This digital print is by yours truly. It's for sale over at my Etsy shop among some of my other paper creations.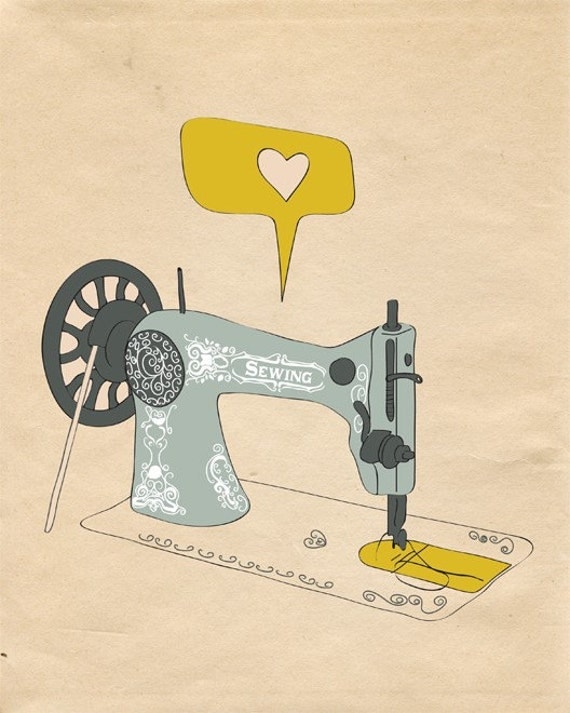 Giclee print by ParadaCreations via Etsy. I love this one for the speech bubble as if it's saying "love me and I'll love you back."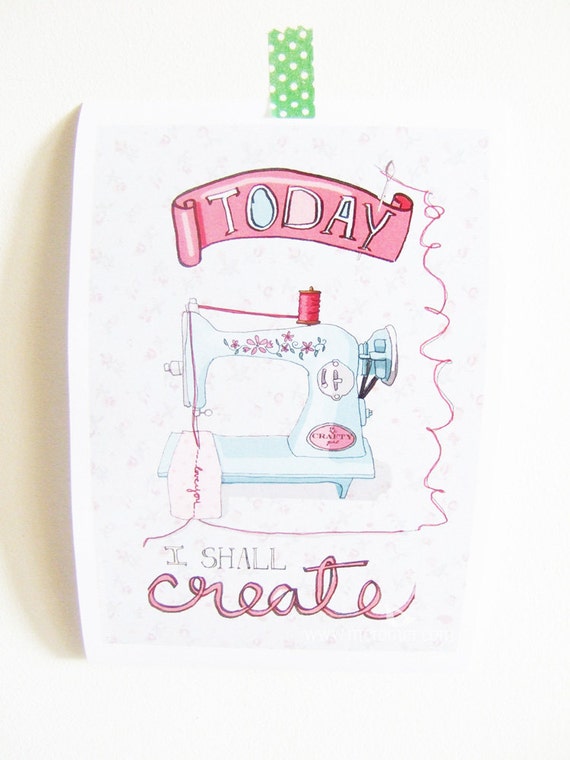 Pen and ink drawing by designbirdie via Etsy. The message with this one is so great. Pretty much the motto I live by.
Hope everyone is enjoying the last few hours of the weekend! Now go create something!